We recently provided the funding for a new — and very nice — circulation desk for the Ada Public Library. The desk was designed by Dale Jackson, of Ada's own Sooner Millworks, and Jennifer Greenstreet, head librarian, with lots of input from the rest of the library staff. Sooner Millworks built and installed it. Buck Creek Granite and Flooring provided the granite top. Funds were administered through Ada Library Friends.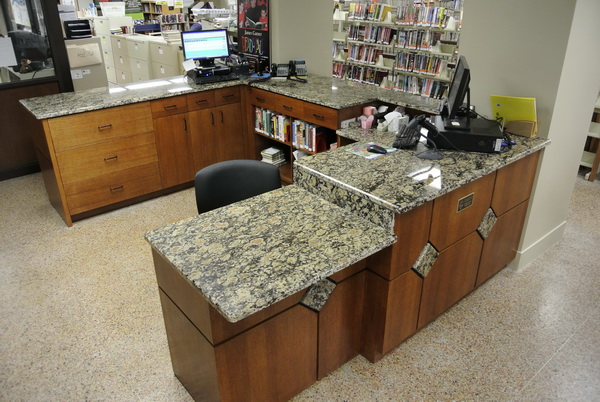 Work on this project has actually been going on for a year or so. We participated actively in the project, particularly in selecting the vendor. We looked at the work done by several cabinetmakers who were being considered for the project, and found that cabinets produced by Sooner Millworks were of much higher quality, and well worth the higher cost.
The new circulation desk has been getting good reviews by librarians and library patrons alike.
The Ada News published an article about this work.