We approached Jennifer Greenstreet, the director of the Ada Public Library, to see what projects she thought might benefit the library. She came up with a short list of things for us to consider, and we decided to fund new furniture for the front lounge area. This is an area where people often just sit and read, or bring their laptops for on-line sessions using the library's wi-fi. Although our little camera wouldn't capture the whole area in one photo, here's an idea of what it looked like before: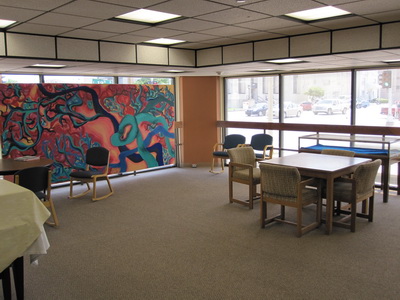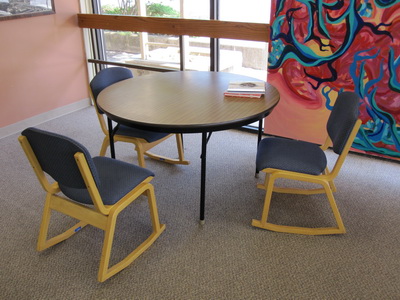 We shared Jennifer's enthusiasm for areas of comfortable seating in the library, and could see how much more pleasant the library might be with improvements in this area. We purchased eight very comfortable chairs for use here, and that has in turn provided the impetus for some other improvements to the lounge area using funds from other sources.
Here's as much of the newly furnished area as our little camera would capture in one photo: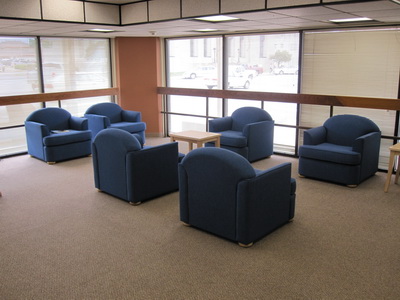 And here's Jennifer, in one of the new chairs: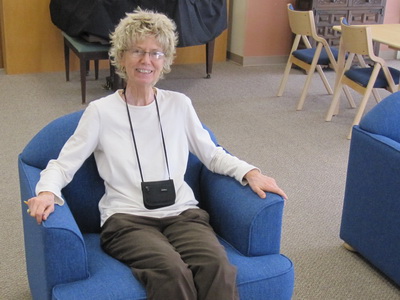 For our special projects, we're inclined to do things that will benefit the institution we support, but which might not have fit readily within their regular budget, and this was clearly such a project. While we might choose to do more work in connection with this project, we have no sense of ownership, and would be pleased if others chose to further develop the lounge.